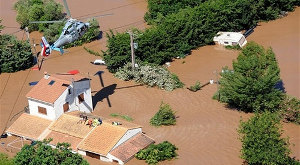 Southern France: floods leave tourists stranded – The storm in Southern France came out as the worst floods of the region for 200 years and now, the streets of Draguignan, between Marseille and Monaco, converted into six-meter-high rivers.
Heavy rains made water levels rise within hours, leading to floods, which gave inhabitants and tourists as well hardly time to flee to safe places.
So far, 19 people lost their lives and another 12 people are missing. A further increase of these numbers is according to the responsible authorities unfortunately possible.
The flood also left several tourists in supermarkets, trains and other facilities stranded, including a high-speed train from Nice to Lille with 350 tourists on board.
One of the most famous tourist destinations of southern France, Frejus, was also hit by the floods, including hundreds of tourists, which could be brought just in time with inflatable boats and a helicopter airlift to safe places. Mainly tourists in the campsites along the river Argens are currently affected by the storms.
If you want to read more about topics like Southern France: floods leave tourists stranded, we would like to welcome you to our Newsfeed