The Apple iPad 3 Release Date: Within two years, the iPad became a modern classic. Following the iPhone's and the iPod's success, it is now being updated every spring.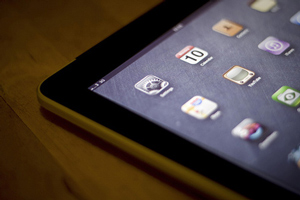 The third version of the iPad is about to be presented in March and to be released shortly thereafter. It is yet unclear in how far this year's iPad will be a completely new version. Analogous to the iPhone, an only slightly modified version might be released this year with a major update following next year.

It seems to be certain, however, that the new iPad will be shipped with Intel's new A6 Quad Core chip. That means a doubling of speed compared to the last version.
Apple iPad 3: Stunning Features
The RAM will probably be increased to 1GB. It is also almost certain that the new iPad will have a high-resolution retina display as used in the iPods and iPhones. This makes the implementation of an improved battery inevitable.

While the new A6 Chip saves battery life, the retina display is quite a power guzzler. A doubling of the battery capacity is therefore expected. Finally, it seems to be certain that a new 8 megapixel camera will replace the older model on the back of the tablet.
Despite all those upgrades, the chassis remains nearly unchanged. The new iPad is expected to be 1 millimeter thicker which will not be noticeable for the user.
iPad 3: Prices and availability
The prices for the new iPad are yet unknown. However, they can be expected not to be higher than the prices for the iPad 2.
It is reported that the iPad 2 with Wifi and3G is not produced anymore. This is interpreted as a clear sign for an upcoming release of a newer version.
If you want to read more about topics like Apple iPad 3: Release Date in March 2012 , we would like to welcome you to our Newsfeed. Pic (c) je