Zerg Rush: Google offers his users a new "Easter Egg". The diverting Google Game is properly titled "Zerg Rush".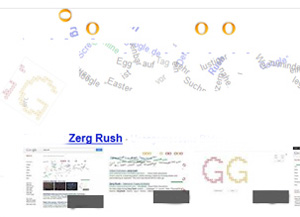 Who types into the search engine the words "Zerg Rush" and hits enter, will find normal search results in the first place. Shortly thereafter appear small circles, which away-erase immediately the search results. Those who are fast, can however destroy the circles.
The Zergs originate from the popular PC game "Starcraft". The "Zerg Rush" offers additional play tactics, like the possibility of defeating the opponents with a high number.
This is quite similar to the search results. Some circles always come through and rub out the results in the search box.

In addition to the game, Google also offeres the so-called "APM".
If you want to read more about topics like Zerg Rush: Google releases new Easter Egg, we would like to welcome you to our Newsfeed. Pic (c) Google