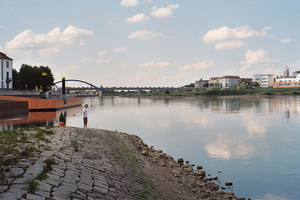 Flood reached areas in Germany today – Brandenburg is gearing up against the progressive high water from the Oder river, as for today and the next few days heavy rainfall is expected.
Although there have been built many new levees after the "flood of the century" in 2002, many of them are still lacking probation and futher, some dyke sections are still in renovation.
At the monent, many residents still barricade themselves with sandbags and for some areas exists the recommendation to leave the places – others are already preparing for evacuation.
For tomorrow, the peak of of the Oder-flooding is expected – and even though the scale won´t be as tough in Poland, it is advised for all tourists and travelers in the Oder region to leave their resorts because of the unpredictable situation.
If you want to read more about topics like Flood reached areas in Germany today, we would like to welcome you to our Newsfeed!