By admin on Jun 06, 2010 with Kommentare 0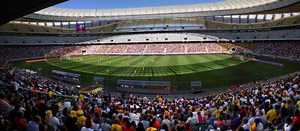 Sports: FIFA Football World Cup 2010 in South Africa – The final round of the 19th Football World Cup takes place between June 11th and July 11th 2010 in South Africa – and for the first time on the African continent.
And as usual, 32 national teams from the continental ssociations UEFA (Europe), CAF (Africa), AFC (Asia and Australia), OFC (Oceania excluding Australia), CONMEBOL (South America) and CONCACAF (North and Central America) will fight for the crown of global football.
These are the teams and groups of the Football World Cup 2010:
Group A
France
South Africa
Uruguay
Mexico
Group B
Argentina
Nigeria
South Korea
Greece
Group C
England
USA
Algeria
Slovenia
Group D
Germany
Australia
Serbia
Ghana
Group E
Netherlands
Denmark
Japan
Cameroon
Group F
Italy
Paraguay
New Zealand
Slovakia
Group G
Brazil
Portugal
Ivory Coast
North Korea
Group H
Spain
Switzerland
Chile
Honduras
If you want to read more about topics like Sports: FIFA Football World Cup 2010 in South Africa, we would like to welcome you to our Newsfeed!
Pic: (c) wa

Similar News:
Comments (0)